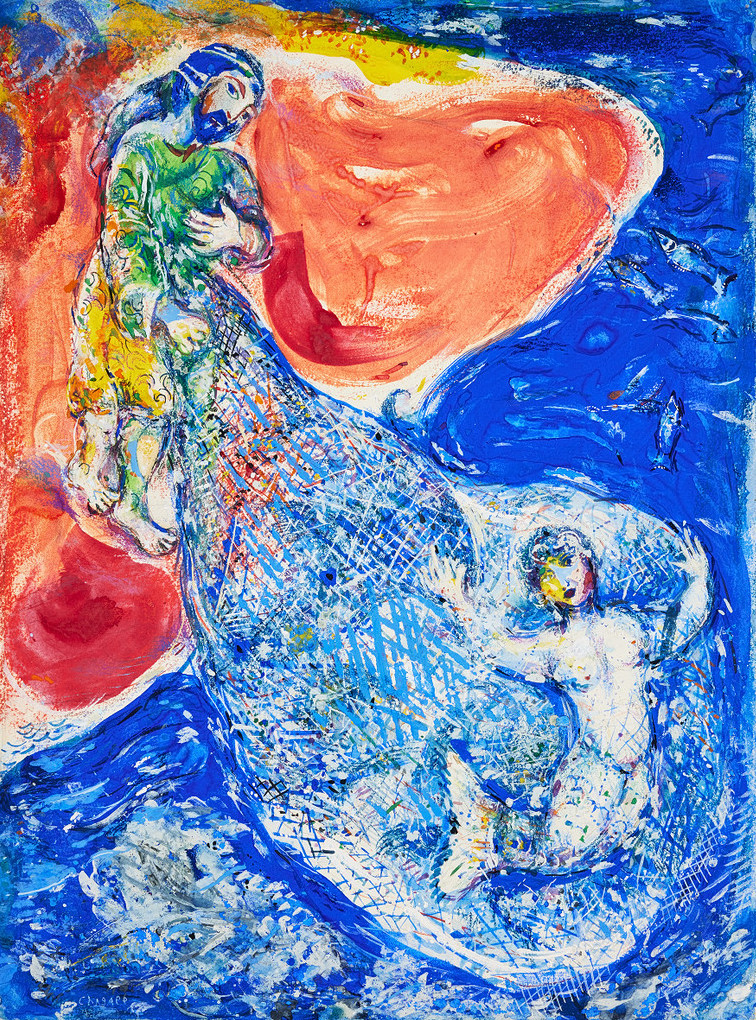 2022-05-04
Marc Chagall's spectacular painting to be sold at Modern & Contemporary
Like a gleaming precious stone in a magnificent piece of jewelery, the colorful painting "Abdallah the Fisherman" appears. The painting is part of a series of thirteen gouaches from "A Thousand and One Nights". In this suite of paintings, the artist lets reminiscence of his Eastern origins resonate with the dream visions that the text in the wonderful tales evoked in him. Rarely has Chagall given his coloristic imagination and artistic virtuosity such free reins as in this spectacular painting.
The story of "Abdallah-of-the-Earth and Abdallah-of-the-Sea" was told by the Persian queen and storyteller Schéhérazade on the 940th to the 946th night. The tale begins with a poor fisherman named Abdallah who has a large family but does not manage to catch any fish for several days. After being encouraged by his wife, he throws his net into the sea once again. This time he pulls in a merman, also named Abdallah. They both became friends and partners.Their business begins to flourish ….
MARC CHAGALL
France/Russia 1887-1985
"Abdallah the Fisherman – When Abdallah landed his net, he saw a man in it, and he fled from the man, but he shouted at him from inside the net …" from "A Thousand and One Nights" (IV)
Signed ChAgAll. Made in 1946. Gouache on paper glued down on cardboard, 61 x 45 cm.
For more information please contact our specialist
---