Bidding is now closed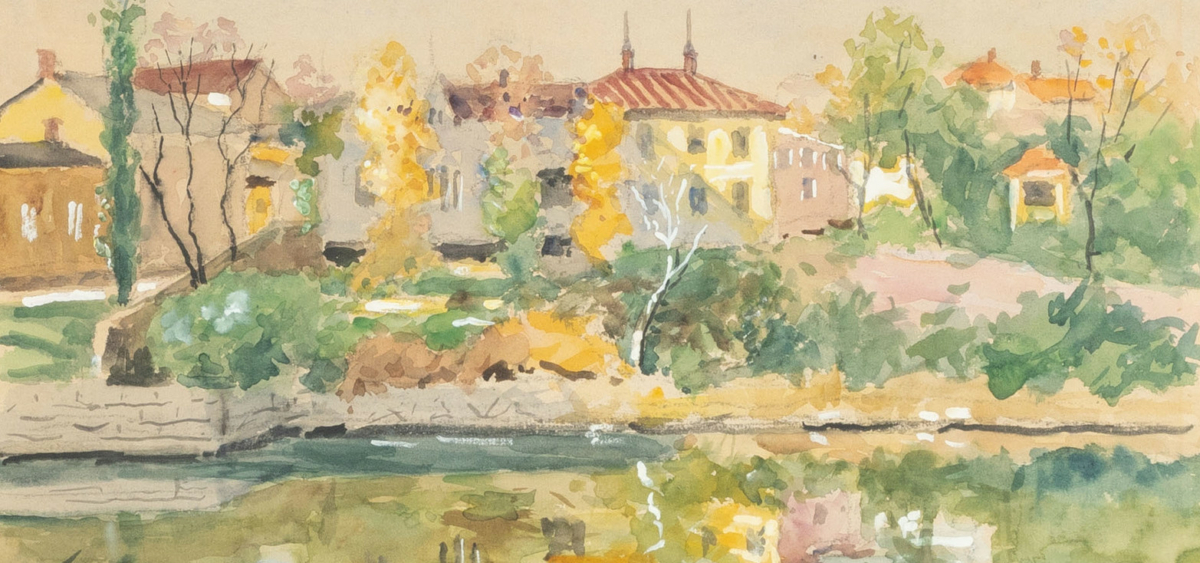 Fine Art Auction
Helsinki Spring Sale
22 May 2022
International quality of art is the key word when Stockholms Auktionsverk Helsinki presents the Spring Auction!
One of the highlights is Helene Schjerbeck's piece "Lace Shawl", an expressive painting with suggestive undertones and an exciting story. From Schjerfbeck's brush comes another piece of the auction's highlights. The "French peasant girl" manifests the artist's ability to capture the innermost essence of the person portrayed. The Spring Auction also offers several paintings by Akseli Gallen-Kallela, including the colorful "Red and white roses", a close-up depiction of the government's banqueting hall, Smolna. Gunnar Berndtsson's masterly self portrait, sculptures by Ville Vallgren and Jussi Mäntynen and bright summer motifs by Albert Edelfelt is a brief summary of what the auction has to offer. As usual, the Arts and Crafts section presents a wide repertoire with everything from a rare coffee pot in silver by Carl Fredrik Borgström to several modern lighting fixtures by Paavo Tynell. Most notable is Johann Fischer's chandelier in gilded bronze, a truly high-classed piece dated in St. Petersburg 1801.
Welcome to Helsinki Spring Auction!
When is the viewing and the auction?
Viewing
17-22 May at Eteläranta 14 Helsinki
Opening hours
Tuesday-Friday 10am-6 pm, Saturday-Sunday 11am-3pm
---
How it works
Place bids online
Until the hammer auction commences you are able to pre bid online. Please note – an account at auctionet.com is required to be able to bid at the auction. You need to do this even if you already are a customer at Stockholms Auktionsverk.
Auction
There after there are several ways to particpate in the hammer auction:
– Absentee bids – absentee bids may be left with Customer Services or e-mailed to, fineart@auktionsverket.se, no later than 5pm the day before the auction. You can also place absentee bids on our website.
– Bidding in the salesroom – a paddle for bidding may be collected from Customer Services. Identification and reference is required.
– Telephone bidding – please contact Customer Services at fineart@auktionsverket.se
– Live online bidding – If you have signed up as a customer at Auctionet you are also able to place bids live online during the sale.
Please don't hesitate to contact our customer services, +46 (0)8-453 67 50, if you need help placing bids.
Payment
You will receive a written confirmation via email after the auction. Payment can be made with creditcard at Nybrogatan 32, Stockholm or you can choose one of our secure methods of payment to pay your item and our commission (25%, incl. VAT). The lots should be collected no later than 10 working days after purchase.
Regarding the Fine Art-auction online in Helsinki
To be able to place bids and buy items you need to sign up at Auctionet – it is easy and free of charge. Please do not hesitate to contact our customer services,
+358 9 3542 6700, if you need help placing bids.
After the Fine Art-auction online in Helsinki
You won the bidding, now choose one of our secure methods of payment to pay your item and our commission (22,5%, incl. VAT + a hammer fee of 8€). You can now collect your item at the auction house at Eteläranta 14, Helsinki, or order transportation at auctionet.com. Please note that there will be a storage fee for items not collected on time.
---
Dan von Koskull
Site Manager. Specialist - Furniture and design
Site Manager. Specialist - Furniture and design
---
Helena Laakso
Specialist - Art & sculpture
Specialist - Art & sculpture
---
Nina Oker-Blom
Specialist - gemologist
Specialist - gemologist
---
Evaluate your item online